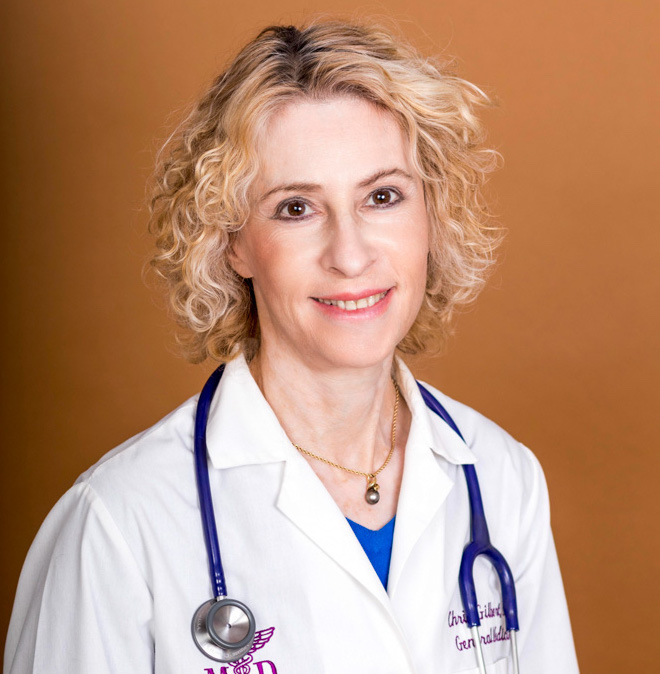 "With her compassion and masterful insights, Dr. Chris Gilbert uncovers the root cause of seemingly inexplicable and mystifying symptoms of many illnesses."  
– SANJIV CHOPRA, MD, MACP, Professor of Medicine Harvard Medical School
Dr. Chris Gilbert, MD, PhD is an author, speaker, and physician with expertise in Integrative and Holistic Medicine, including Homeopathy, Acupuncture, Bio-identical Hormones, Supplements and Gestalt Therapy.  She understands how the body works and often asks the question: "If your body had a voice, what would it say?"
According to Dr. Gilbert, the most common ailments that send patients to doctors – such as joint pain, abdominal pain, fatigue, obesity, rashes, and headaches – are not purely physical problems. "Instead, they frequently have their origin in intense but suppressed emotions, extreme emotions, and internal conflicts deep within the human psyche," she says. Therefore, the key to healing lies in coaxing the body to give voice to the emotional sources of illness. Then, very often, the symptom will disappear and the body will start healing.
Dr. Gilbert shares her mission.
Dr. Chris Shares One of Her Keys To Happiness
Education
Dr. Chris Gilbert received her MD PhD in 1981 from the Faculté de Médecine, Cochin Port-Royal in Paris, France.  Her PhD thesis focused on novel dialysis techniques for kidney failure.
Post graduate training include
Acupuncture Certification in Paris, France
Homeopathic Medicine Certification in Paris, France
Hyperbaric Medicine Certification in Paris, France
General Surgery residency at Harbor-UCLA Medical Center.
Internal Medicine internship at UC Irvine
Medical Innovations
Based upon extensive training at the Esalen Institute Dr. Chris Gilbert incorporated Gestalt Therapy techniques into her Integrative Medicine practice, to identify and treat emotional and behavioral issues, such as chronic stress, that drive the majority of visits to primary care doctors. These innovations, which are described in her upcoming book, 
The Listening Cure (Healing secrets of an Unconventional Doctor)
, in one form or another help patients recover from illness by identifying and releasing suppressed emotions that cause or trigger many diseases.
The main question she asks is: "If your body had a voice, what would it say?"
Television and Motion Pictures
In 1995 Dr. Chris joined the Screen Actors Guild/AFTRA (member 10138876 ) and began to appear in acting roles in both television and film.
Television and Film appearances include:
Strong medicine (TV 2003,2004)
The Drew Cary Show (TV 2004)
JAG (TV 2004)
CSI NY (TV 2009, 2010)
The closer (TV 2009)
Bones (TV 2012,2014)
The Agency (TV 2002)
The nutty professor ( Film 1996)
The mentalist (2013)
Shameless (2015)
Daybreak (2006)
Gilmore girls (2006)
The unit (2007)
Shark (2007)
Dr. Chris Gilbert also served as a medical advisor to The Closer in 2009 and CSI NY in 2009 and 2015
Personal life and early career
Dr. Chris is the daughter of prominent Paris physician Jacques Gilbert, MD and Jacqueline Gilbert, a second grade teacher. Raised in Paris, Dr. Chris practiced medicine with her father after finishing an internship in Martinique and gaining post-graduate certifications in Homeopathy and Acupuncture. Along with her father, Dr. Chris focused on fusing Eastern and Western Medicine into what is now termed "Integrative medicine."
She is married to Eric Haseltine, PhD
Private medical practice
Paris, France from 1982 to 1989
Los Angeles, California from 2002 to 2016
Doctors Without Borders
In 1989, Dr. Chris Gilbert joined Medecins Sans Frontieres (Doctors Without Borders) Her tours of duty have included
Mozambique: Chief of Medical Department Mocuba Hospital (Civil War zone)
Mauritania: Bassikounou Refugee Camp. Medical director of a 26,000 person refugee camp
Sri Lanka: Physician in charge at Madhu 30,000 person Refugee Camp .
China: Chief coordinator of an emergency mission in the Anhui province organizing shelters, bringing medical supplies for 400,000 homeless people due to heavy flooding
Books
Dr. Chris's ABC's of Health (2010)
The French stethoscope – A Memoir (2010)
The Listening Cure, Healing Secrets of an Unconventional Doctor (2017)
Riding the Monster (2021)